Copy of Aluminations
Designed by Cherry Bibler, Linda Lancaster, & Wanda Hecht and modeled by Sonja Younger

Metalized insulation creates this futuristic cape, but whispers from the past hide beneath in a fun, fringed dress made from pop-tabs. Listen for the jingle!
Best-in-Show 2017
Copy of Save the Bees
Designed by Rebecca Bartenetti and modeled by Eva Greer

VHS tapes, straws, paper, paint, wire, beads, sequins and fabric create a look inspired by the importance of bees and their impact in Nature.
2017 Best Hair
Copy of Your Bias is Showing
Designed by paula pay la renta, and modeled Karyn Stillwell

The Transitive Property of Equality states that if the wearable is personal, and the personal is political, then the wearable is political.
Copy of Imagined Africa
Designed by Judith Bird and modeled Ellie Taylor

Artist-dyed multi-textured strips of colorful silk reveal the tiniest movements of the body when supported by garden bamboo. Includes plastic meshes and zip ties.
Copy of Literacy is Not Ephemeral
Designed by Crystal Taggart and modeled by Paris A G Burken

Folded newspaper forms a lush ballgown in this salute to the continuing effects of reading in our lives.
Copy of Blown Away
Designed by Nonie Gaines and modeled by Julie Reed

Inspired by Dale Chihuly, Nonie transforms PVC sheets and tubes, industrial freezer panels, plastic tableware and fabric with ink, paint, and dye to simulate blown glass.
Copy of AD Consumer Me
Designed by Sarenia Fought and modeled by Kirsten Gaston

This piece invokes our constant bombardment by advertising. Each ad is cut out, glued together, hand sewn to tulle, then ironed between plastic painter's
sheets.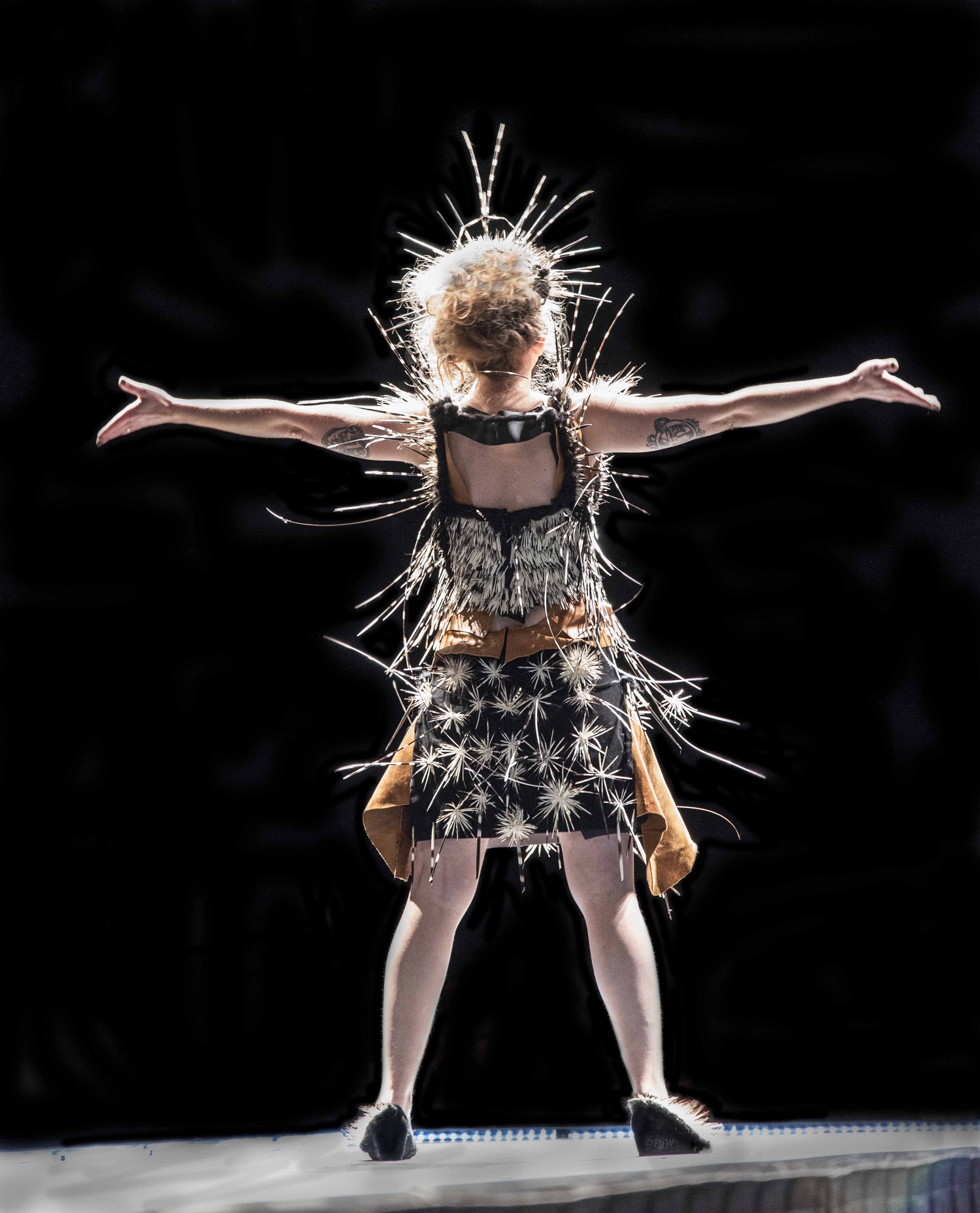 Copy of Second Skin
Designed by Artist: Terra Holcomb and modeled by Maggie Day

Thousands of porcupine quills, glued together, create a second skin to protect the wearer from being grabbed by anyone, anywhere.
Copy of Biz Ness Monster
Designed by Teri Nomura and modeled by David Faber

This flashy biz-ness-man makes a narrow escape in his bold graphic waterproof raincoat, graffiti shirt, duct tape tie, wizard fedora and red briefcase. Close call!
Third Place 2017
Copy of Tale Teller's Tale
Designed and modeled by student artist Nadia Fisch

This dress, inspired by Nadia's love of reading, is made from pages of her own discarded childrens' books, sewn to cloth blinds or woven.
Best Student 2017
Copy of Thorned Orange Biped
Designed by Margie McDonald and modeled by Bonnie Obremski

Pulled plastic fencing is tagged onto foam mat, then glued and sewn together. Tough, lightweight and easy to ship, think: 2018 WOW NZ.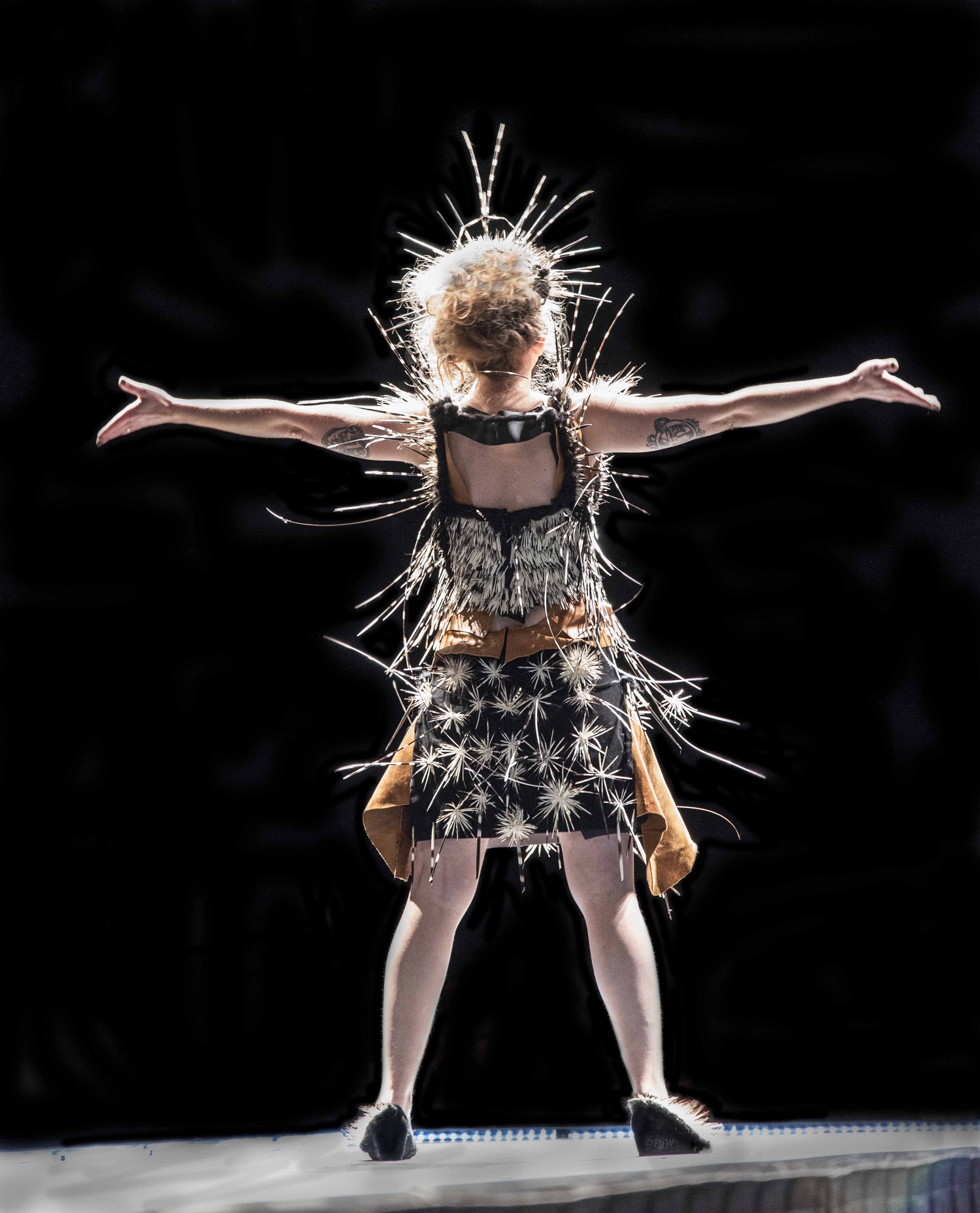 Copy of Prima Jacket
Designed by Joyce Wilkerson and modeled by Dale Fountain

Stylish, hip-length casual jacket with strong graphic elements woven into the peach bouclé fabric; made of rayon, tencel and cotton fibers with fossilized stone buttons.
Copy of Short Coat "Oranges"
Designed by Judith Bird and modeled by Beth Bradley
Contrasting shapes and shades of orange applied on a short, swing-back coat of merino-wool-silk, handwoven then felted. Surprise details inside!
Copy of Exaggerate
Designed by Tamara Halligan and modeled by Jacob Wade

Scandinavian Art and Designer Raf Simons
inspired this ridiculously large sweater of handknit colorwork, in easily laundered acrylic.
Copy of Purple in the Garden
Designed by Michelle Johnson and modeled by Jaclyn Connor

Silk, merino wool, and a sparkle or two are hand felted together to create a lightweight tunic dress.
Copy of Seagrass Zia Jacket
Designed by Joyce Wilkerson and modeled by Catherine Kirkham

For lovers of green, this asymmetrically styled jacket features a shawl collar, patch pocket and handwoven chenille fabric.
Copy of Sweeter than a Sweater
Designed and modeled by Heather Hicks

A vest created from repurposed wool sweaters makes a bright collage with pockets and cutwork as playful elements. A crocheted wool flounce completes the tunic.
Copy of City Girl
Designed by Janice Speck and modeled by Polly MacComber

An embellished boiled wool cape, re-fashioned from a jacket, with a re-purposed merino wool dress layered underneath.
Copy of The Girl From Underneath the Couch Cushions
Designed and modeled by Emillia Nunn

Clean out the couch for bling, tear down the curtains for a cape, nothing can stop the determined debutante when it's time to impress!